Samuel Adams is an iconic American Craft Brewery, and they were also one of the first. The beer they built their brand around is Boston Lager, which is a Vienna-Style Lager. They also have been Kosher-Certified by the Star-K since 2006. Therefore, it is quite an honor for me to present my review of the great Boston Lager.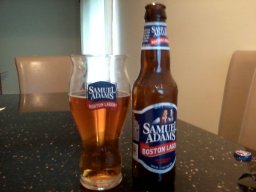 Boston Lager pours a
light amber in color, with inch thick white head that becomes rocky, before dissipating into a ring of lacing. There is a s
weet caramel malt aroma, along with yeasty, doughy notes. The beer
hits the tongue with sweet caramel, followed by some toffee notes, it lingers with a floral hoppiness, and goes down in a yeasty doughiness. Leaving a well balanced aftertaste with
medium bodied feel that is enhanced by the carbonation.
Overall this is an extremely well balanced beer, very drinkable and great tasting, can't ask for anything more in a lager.
*Boston Lager is under the supervision of the Star-K*
Do you want more Kosher Craft Beer news & updates? Follow me out on Twitter
@Koshercraftbeer